Australian Embassy in Myanmar
Welcome to the website for the Australian Embassy in Yangon. This website provides an overview of the services provided by the Australian Embassy in Yangon and provides links and information to other Australian government departments that may be useful to Australians in Myanmar.
Where to find us
The Australian Embassy is located in Vantage Tower, 623 Pyay Road, Yangon, Myanmar +95 1 230 7410
We also have a Facebook page you can visit: www.myanmar.embassy.gov.au

AusEmbMyr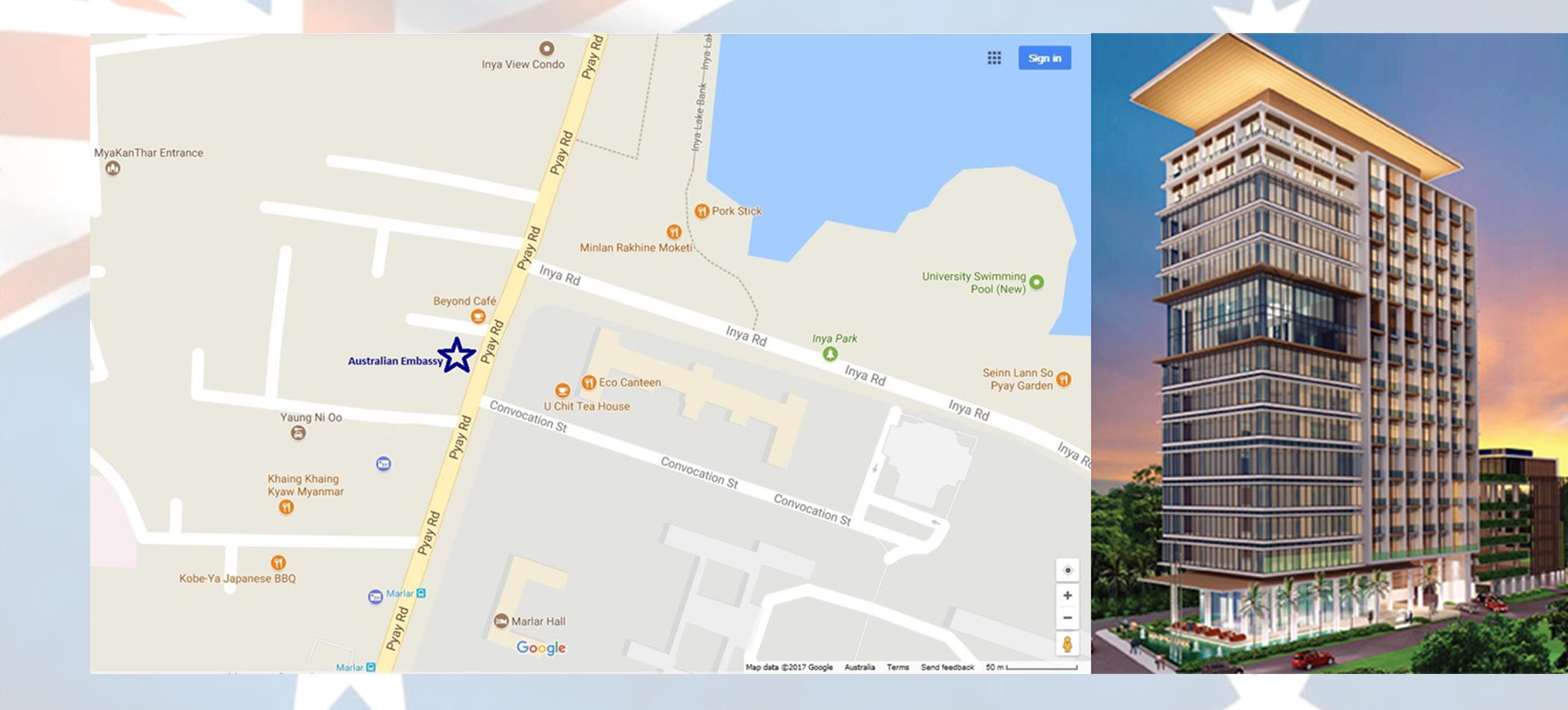 Consular Information for Australians
Contacting the Embassy
The Embassy is open 08:00am – 4:00pm, Monday to Friday. We are operating by appointment only, unless it is an emergency.
For consular assistance only, please call or email us to book an appointment. The Embassy's reception email is [email protected]. The Embassy's switchboard number is +95 12307410 .
If you need to contact us urgently, please phone the Consular Emergency Centre on +61 (2) 6261 3305
. This number operates 24 hours a day, 7 day a week. International calling rates may apply. Check with your phone carrier for international voice call charges before making international calls.
If you are seeking passport or notarial services you can make a booking by following the link below to book an appointment:
You can also follow the Australian Embassy in Myanmar on Facebook: facebook.com/AusEmbMyr.
Latest Travel Advice
You can review the Australian Government travel advice for Myanmar and learn more about local safety, laws and health risks via Myanmar Travel Advice
Are you applying for an Australian Passport?
Please ensure your passport remains valid at all times. You should allow a minimum of 6 weeks to receive a passport. If that's too long for you, an emergency passport might be the answer. Further information on applying for a passport is available on our Passports page.
The Embassy is providing passport services to clients by appointment only. For enquiries or to make an appointment, please email [email protected].
Are you an Australian living in Myanmar?
For information for Australians remaining in Myanmar please visit Information for Australians.
Are you planning to travel or return to Australia?
For information on travel to Australia please visit Information for Australians.
Are you planning to travel to Myanmar?
All enquiries by Australians planning to travel to Myanmar should be directed to their local Myanmar Embassy to seek advice on travel arrangements and to submit a visa application. All travellers should review Smartraveller Myanmar Travel Advice to learn more about local safety, laws and health risks prior to travel.
Latest News
Australia Awards Scholarships in Myanmar 2023 intake
Australia Awards Scholarships 2023 intake closed on 29 April 2022 (11:59pm Canberra time/ 8:29pm Yangon time). The next round will open in early 2023.
The application process for other intakes is underway and applicants will receive notification of the outcome of their application in due course.
Australia Awards Myanmar scholarships are available for Masters-level study in Australia. In Myanmar, applicants are required to be 25 years or older at 30 April 2022. Applicants are also required to have completed Bachelor's degree and have a minimum of 2 years of work experience.
Australia Awards scholarships are prestigious international awards offered by the Australian Government to the next generation of global leaders for development. Through study and research, recipients develop the skills and knowledge to drive change and help build enduring people-to-people links with Australia.
Applicants are assessed on their professional and personal qualities, academic competence and, most importantly, their potential to have a positive impact on development challenges in Myanmar.
Applications are strongly encouraged from women, people with disability and other marginalised groups.
For more information:
Country Profile 2023: click here
Referee Report Template (doc): click here
Curriculum Vitae Template (doc): click here
Scholarships Policy Handbook: : click here